工作原理
LGCX为立式刮刀抽吸卸料自动离心机,液/固混合流体通过进料管进入离心机转鼓内(可在低速或中速进料),在离心力场作用下,通过滤片截留固相,滤出液相。持续进料,直至料满,停止进料,如工艺需要时则对滤饼进行洗涤、提纯,同时将洗涤液滤出。进一步脱液,直至达到分离要求。降至低速,刮刀将大部分滤饼刮下,同时气流抽吸装置将滤饼抽出,完成一次工作循环。刮刀动作与气流抽吸装置通过料位探测自动匹配联动。
主要特点是无基础整体安装,可整机移动;全密闭形式;可在极低速下或中速进料,无滴液;卸料方式为刮刀+气流抽吸,所需的安装空间小,上部自动卸料,易清洗。
Operating principle
LGCX automatic vertical bottom suction scraper discharge centrifuge. Mixed solid and liquid fluids enters centrifuge drum via feed pipe(at low or medium speed ).
acting on the centrifugal position. Liquid-solid mixed fluid intercept the solid phase through the filter to filter out the liquid phase.
Centrifuge continues to feed until full. Then stop. Solid cake is rinsed and purified when the process requires. And the rinsing liquid is filtered out meanwhile. Centrifuge further filter until the separation requirements are met.
At low speed. the scraper scrape off most of the solid cake. At the same time the air suction device pulls out the filter cakes to complete a working cycle. Automatic matching of scraper action&airflow suction device through material level detection.
The main feature is no foundation integrated installation. the whole machine can be moved. Fully closed form. Can be fed at very low speed or at medium speed without dripping. Discharge mode is air suction with scraper. Small installation space required. Top automatic discharge. Easy to clean.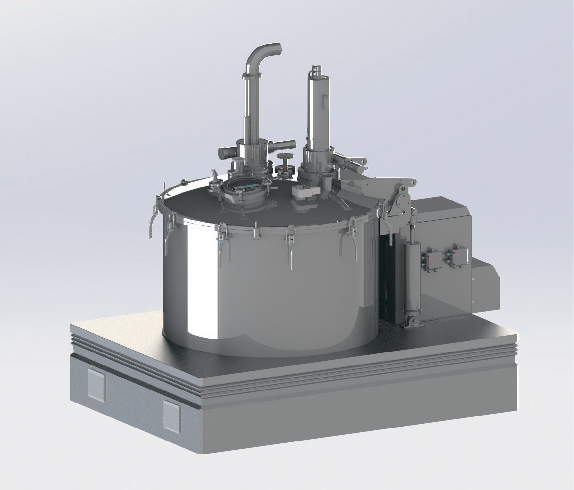 技术参数 Technical parameter

LGCX安装形式
u 平板结构,液态阻尼减振,全封闭落地无基础安装,可移动
u 传动腔负压,消除粉尘污染
u 大翻盖或全翻盖形式
u 上置气流抽吸卸料装置
u 料层厚度设定+料层探测+n次补料,确保滤饼层厚度
u 滤饼不平衡自动修复+过振动待机保护
u 雾化洗涤,洗涤定量控制,间隙式/脉冲洗涤。洗涤滤液导电率检测+出液转换
u 高精度转鼓(机加工、平衡),高分离因数,提高分离效率
u 设置主轴封、刮刀轴封,轴封压力比内腔商20mbar, 废气有序排放
u 联组传动带,内置式测速传感器。
u 外置补油装置(手动/自动)
u 数字控制无级分层刮料,气流抽吸自动匹配,堵转自动修复
u 刮刀刀片耐磨设计与防污染设计
u 全密闭液压站,不锈钢液压油箱
u 自动清洗程序
u 系统全密闭,满足清洁生产要求
u 电脑、手机APP远程监控系统
u 多重保护:过振动保护,开盖保护+合盖保护,电机过载保护,料位保护,刮刀原位保护,抽吸装置原位保护,工序联动机械+电气保护,氮气保护,静电接地保护,故障诊断与待机保护,检修锁定保护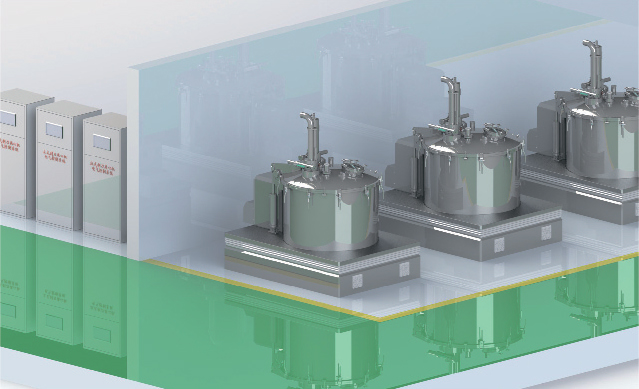 LGCX Form of installation
u Ftat plate construction. Damping vibration with liquid damping oil. fully enclosed landing without foundation installation. movable
u Transmission chamber pressure is lower than main engine pressure. eliminating dust pollution
u Large or fully hinged cover form.
u Top pneumatic suction device
u Setting material thickness+Layer detection+N secondary feed. Ensure filter cake thickness
u Automatic repair of filter cake imbalance+Over-vibration standby protection
u Atomization washing. Washing quantitative control. Clearance /pulse washing. Detection of conductivity of washing filtrate+Liquid output conversion.
u High precision drum (machining and balance), high separation factor, improved separation efficiency
u Set Spindle Seal, scraper Shaft Seal. Axial seal pressure higher than inner cavity 20mbar. Exhaust gas orderly emission
u Joint drive belt .Built-in speed sensor
u External oil supplement (manual/automatic)
u Digital control stepless layer scraper. Air suction automatic matching. plug rotation automatic repair
u Scraper blade wear-resistance and pollution-proof design
u Fully enclosed hydraulic station, stainless steel oil tank
u Automatic cleaning program
u Fully enclosed system satisfying specification of pharma production
u Computer, mobile phone APP remote monitoring system
u Multiple layers of protection: Over-vibration protection, cover opening and closing protection. Motor overload protection, Material level protection, scrapper normal position protection. In situ- protection of bag pulling support. Process linkage, Mechanical and electrical protection. N2 protection, Electrostatic grounding protection. Ovehaul lock protection. Fault diagnosis and standby Protection
系统配置
u 离心机主机
u 液压系统
u 气动控制系统
u 电气控制系统
u 防爆操作箱/防爆触摸屏
u 氮气保护一氧含量检测
u 氮气保护一氮气置换
u 液封
u 气封
u 进料阀、洗涤阀
u 落地无基础安装底座
System configuration
u Main engine of the centrifuge
u Hydraulic system
u Pneumatic control system
u Electrical control system
u Ex-proof operating box / Ex-proof touch screen
u N2 protection-oxygen content detection
u N2 protection and N2 replacement
u Liquid sealing
u Air sealing
u feed valve and washing valve
u Landing without foundation mounting base